Slovenia in September
Do you want to go to Slovenia just after the summer holidays? Then you have chosen the best and most beautiful time for your trip! Enjoy the tranquillity and nature in its most beautiful colours.
Weather in Slovenia in September
September is the month when the weather is mild and nature shows itself at its most colourful. Average temperatures range between 15°C and 25°C.
Sunshine with the occasional drop of rain.
The sunny days make September perfect for outdoor activities like hiking or cycling. There may be the occasional refreshing drop of rain. This just adds a touch of charm to the autumn experience. Thanks to the water, nature becomes even more intense and the autumn colours become even more vibrant!
For swimming and water sports, September is probably not the best month. It cools down a bit faster and temperatures above 30 degrees really are an exception.
The most beautiful autumn colours
We think nature in Slovenia is at its most beautiful in September. In Slovenia, you also have what is known as an "Indian summer". A beautiful palette of green, yellow and orange leaves.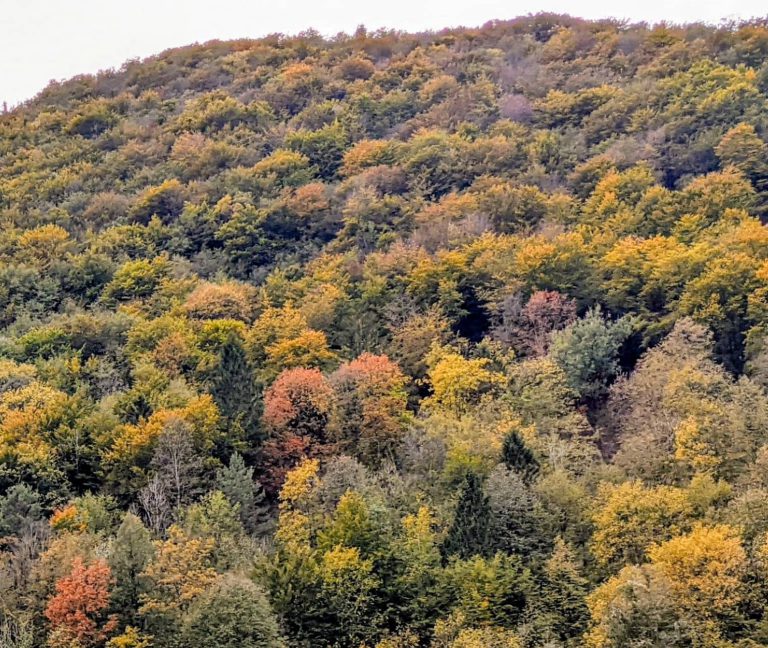 Much of nature is normally already dazzlingly beautiful, but the autumn colours add a golden touch. For photographers and nature lovers, this is a time to be enchanted.
Quiet on the roads and at the high-lights
In summer, the most popular sights in Slovenia can still be crowded. By September, these crowds are over. No queues, just the peace and quiet to enjoy. On the roads, too, you will notice that you can tour wonderfully without many other road users.
Useful tips
Dress in layers: While the days are warm, evenings can be a bit cooler in September. Make sure to layer so you are prepared for changing temperatures.
Take your time: With the pleasant weather and calm that has returned after the high season, Slovenia in September is perfect. A holiday to take your time and be in harmony with nature.

Slovenia, beautiful into the autumn holidays
The beginning of autumn is a wonderful time to visit Slovenia. If you are lucky, it is still sunny and pleasant in early October. We took the photos on this page in early October.
In November, nature prepares for winter. There is more precipitation then, just like in the Netherlands. November is therefore one of the least popular months to visit Slovenia. In December, the first snow is already expected and the winter season starts.
Going to Slovenia in September? Yes!
Our conclusion: September is excellent for a holiday to Slovenia!