Wine holiday in Slovenia
We know France and Italy as excellent wine countries. But do you already know Slovenian wines? Slovenia has some beautiful wine regions where it is wonderful to stay. But where you can also enjoy the local pride: Slovenian wine. So the ideal destination for a wine holiday.
Brda: Slovenia's Tuscany
Located on the Italian border, Brda is known as the "Tuscany of Slovenia". This area of rolling hills and medieval villages, is a paradise for wine lovers. Brda is best known for its white wines, such as Rebula and Sauvignonasse. The region has a Mediterranean climate, which contributes to the rich flavours of the wines. Visitors can enjoy wine tastings in traditional wine cellars, walks through the vineyards and culinary delights in local restaurants.In this region, you will find the towns of: Smartno, Dobrovo and Vipolze.
Cycling in the Brda wine region
The rolling landscape makes Brda ideal for cycling tours. Especially with an e-bike, the balance between exertion and relaxation in this area is truly enjoyable! Be sure to visit the local winemakers. Recommended wineries there include TILIA estate, Burja, Tavčar, Benčina, Pasji Rep. And since you're on a bike anyway, feel free to sample some wine. But enjoy in moderation.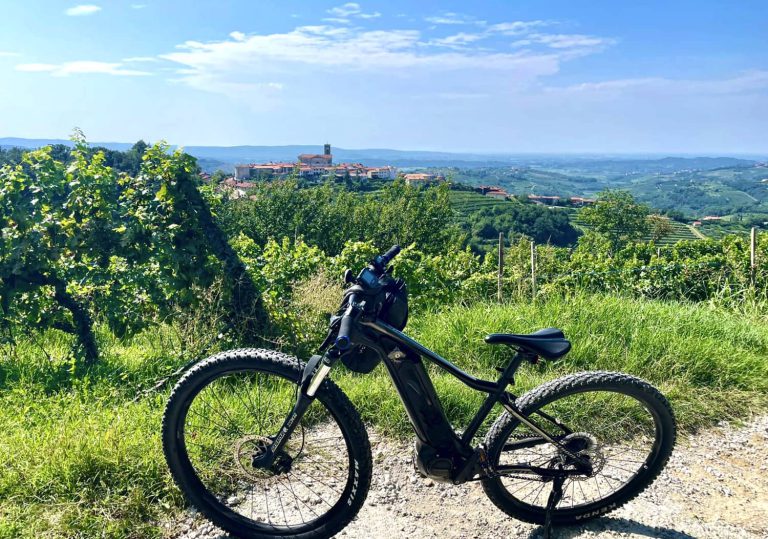 With an e-bike, the orange route below is easy to do.
After cycling, you can enjoy a delicious meal vij Restaurant and pizzeria Belvin in Plešivo.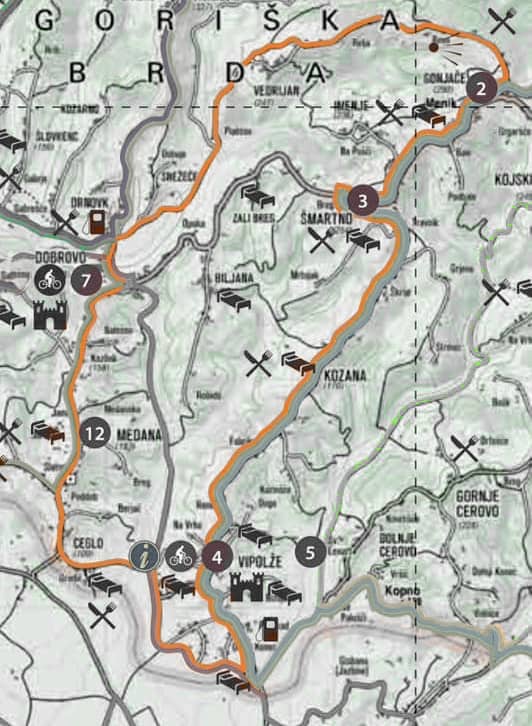 The wines of Slovenia
Slovenian winemakers produce some remarkable wines that are internationally recognised. In preparation for your wine holiday, you can get acquainted with the gems from Slovenia's wine cellars and their unique bouquet.
Rebula is a native white grape from the Brda region and is known for its fresh and mineral flavour.
Sauvignonasse, also known as Tokaj, is another white variety from Brda that produces rich, aromatic wines.
From the Vipava valley comes the red Teran, a wine with a deep colour and a distinctive acidic flavour.
Laški Rizling (Welschriesling) from the Podravje region is one of the most widely planted grapes in Slovenia and is known for its fruity and floral aromas.
Finally, there is Modra Frankinja (Blaufränkisch), a red grape that produces deep, tannic wines with a hint of dark fruit.
Slovenian wine regions
Besides Brda, there are other wine regions in Slovenia that are well worth a visit. Consider the Vipava Valley, known for its fruity red wines, or the Podravje region, where some of the best Slovenian white wines are produced.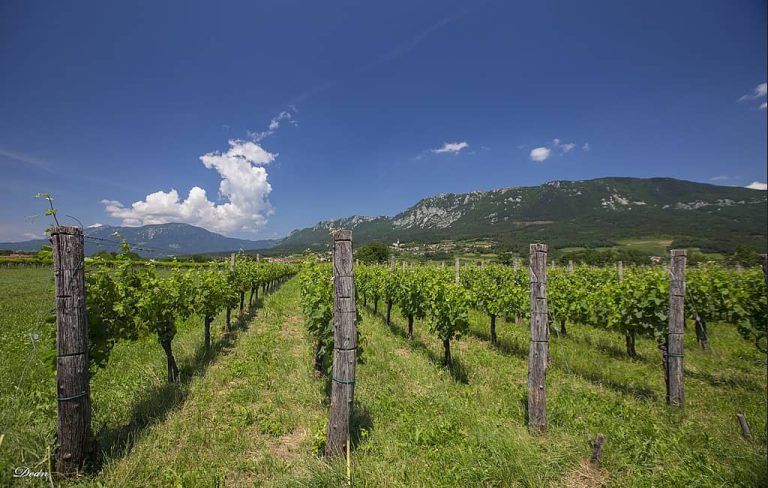 A wine holiday in Slovenia offers a unique blend of culture, nature and delicious wines. Whether you are a connoisseur or just a wine lover. Slovenia is an excellent country for a wine holiday! Cheers to an unforgettable trip.